The Commons
The Commons – by whatever name – is ancient in human experience. We gather, disperse, and gather again in "the commons," whether at the crossroads of a village, in a grand piazza, a house of worship, a ballpark, or cyberspace. The commons is grounded in those things that are the heritage of all and held in trust for future generations—e.g. air, water, seeds or culture. The commons is a scalable metaphor, that is, it may take the form of a small public library, a community art fair, a cafeteria in corporate headquarters, a downtown parade, a national park, the internet, an ocean. In broader terms, more than the market or the state, "the commons" is a way of speaking of the whole of our shared life, the interdependence of the particular sectors of life and society, and it orients our search for the common good. Yet paradoxically, the commons isn't "everything." Our "new commons" is global in scope, personal in impact—complex, diverse, and morally challenging. "The new commons" is a metaphor that anchors a sense of place, a consciousness, and a practice.
Big Questions, Worthy Dreams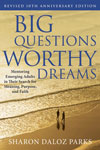 One of the challenges of the new commons is that the 20-something years have become a distinctive and puzzling time in the human lifespan. In a new 10th anniversary edition, Parks describes the vulnerability of these years and how mentors and mentoring environments will play a vital role in the potential transformations of thinking, feeling, and networks of belonging that are harbored within emerging adults.
© copyright 2011 Leadership for the New Commons
This website is under construction. Please check back soon for our fully updated site.